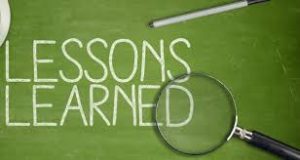 I've been hearing so many amazing stories of how people are coping, and lessons learned from people within the Quarter Turns Universe over the past few months. Probably the most inspiring is how so many of you have gotten to know and re-engage with your families and their work teams at entirely different levels.
With everyone being thrust into the confines of our homes in such immediate fashion, the New Normal of the Family dynamic along with the true dawning of the "Video Conference" has created all sorts of insights and revelations.
I thought I'd share some of them with you this week and also encourage you to add to this list so everyone can learn the lessons that have interested and inspired you as we get through this current challenge together.
One of my clients in Las Vegas has learned exactly what it means to be continuously in the presence of a 3-year old. His job requires non-stop travel, so he never fully understood the challenges his spouse faced on a daily basis to get their toddler up and going and then get herself prepared for the day and her own demanding job. He has conclude that his pre-schooler doesn't seem to care much about plans and schedules for the day. Anyone who's ever attempted to negotiate on a 3-year old's timeline knows exactly what this is like.
Until the pandemic, he had always felt like solid supporter for his wife in the parenting department. Now he understands that he will need to up his game and not just in the work from home period, but especially when things begin to normalize.
He went on to share with me that he's always known his spouse was an amazing person and that he was lucky to be with her, but he has developed a completely new sense of awe for her ability to stay cool and manage the chaotic business of their family. I encouraged him to share this with her as she may really appreciate hearing that.
Another client in Illinois, that had resisted video conferencing until now told me he was starting to get a true sense of "Who" the team members actually are on his team, rather than just focusing on "What" they do. The new rules of video conferencing are allowing for relaxed dress codes, hats, no make-up, and kids or pets running all throughout the household and interrupting without warning. After all, anyone that's ever worked from home knows that this simply comes with the territory.
My client marveled at actually getting to be inside his team members homes virtually and seeing their makeshift workspaces. He noticed pictures and momentos that signify who they are and what inspires them outside the office. These insights have given him a new sense of responsibility for his team, and exactly what their business goes to fund in the real world.
He actually teared up as he shared this with me because he now understood how callous he had been at times to the needs of his team and their extreme determination to leave the office at a reasonable hour. The full weight and responsibility of Leadership and making good decisions not just for his customers, but for those that do the work in his business to stay in business has placed a new sense of purpose in him to get their company through this challenging time.
The last story I will share with you comes from a client I've worked with in California for many years. This company has built an amazing brand in their region over the years and they done it by creating a thriving culture with their organization which they refer as a family of 1200 team members.
I've heard many companies talk about their organizations as a family, but very few of them actually walk the talk of treating their people like a family, especially when things get challenging for the business.
This particular organization has been forced to close their doors several times over the past 10 years, a few times by choice, and a few times due to circumstances beyond their control. They know the impact of their team members being unable to work for even just a few weeks. Because of this, they had a contingency plan that allowed them to put everyone on paid leave for an extended period. After that they assisted each of their team to transition to one of the government sponsored programs for the rest of the down time which thankfully for them has been over for a few months.
Mostly though they simply communicated with everyone in their organization 2-3 times per day to keep them in the loop and updated on what they are doing, and what their employees should be doing. Now that they are back up and running, engagement levels of their team have been through the roof and employees are doing whatever they can to support the organization that did so much to support them. Now that's a family!
When I shared with her how amazing their accomplishment was compared to some of the other organizations I've encountered, she thanked me. You see there was no playbook for this type of event, and anyone that says they had it all figured out isn't being truthful. She wasn't sure if they were doing enough or if it was the right thing to do so hearing some external validation helped her process the enormity of the situation and how their small organization was working to get everyone in their organization through the situation.
I heard Mark Cuban say that the way organizations respond to this crisis, and how they take care of their people will define their Brands for the next 20 years.
Work funds life my friends, not the other way around. If we lose sight of why we do what we do, and the people that make it all happen then what are we actually doing this for?
There are so many more success stories out there and so many more lessons learned. I would appreciate if all of you would take some time today to share what you've learned as a result of dealing with our current situation and how it will impact you, your family, your team or your organization in the coming months and years.
Time to start thinking about life in a PC world… "Post Covid"
Cheers to you, your growth, and your health
One Quarter Turn at a time!
Quote for the Week:
"Never stop learning, because life never stops teaching"- Lin Pernille