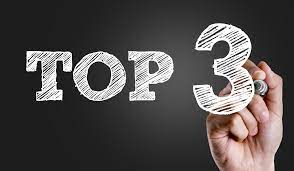 I'm often asked to coach and facilitate around the topic of time mastery and productivity. It seems there's a big need to get more done in less time and our never-ending task list and busy schedules make it hard to stay productive and feel like you are moving in the right direction.
One of the first tasks I would coach someone around this topic is ask you:
What are your top three? Meaning what are the three actions that you take in your business that generate the most momentum and create the most value?
Obviously, I understand that you do more than three things during the course of your days and weeks, but I want you to really distill this down and hone in you your top three highest value tasks. These are the ones that truly move the needle and create leverage for you with your talents, skills and abilities. When you consistently engage in these tasks, the time seems to sail by effortlessly and you feel energized by the end of the day.
Conversely when you are bogged down in the low value tasks, the sticky stuff, knee deep in the weeds, time probably grinds to a halt. These are the days when you are on the never-ending treadmill to nowhere, and whatever you do doesn't feel as though you are making progress. It's interesting when you have these types of days, you feel as though you've worked really hard long hours, but when they are over you are completely stressed and demotivated to come back in and fight the good fight.
Today It's about identifying those things that create energy and momentum and truly build value.
I'll give you an example of my top three high value tasks.
Creating
Connecting
Coaching
These are the highest value tasks I engage in during my workdays.
Creating new content and new material is always energizing for me. When I start the day with a hot cup of coffee and sit down to create something new it generates so much value for myself and for my brand. When I create, I usually learn, and learning something new always sparks new ideas and thoughts that propel me to engage with my clients in a powerful and meaningful way.
Once I've created something new, I'm inspired to engage in my second highest value task- Connecting. My number one job as a small business owner is to constantly connect with people. I do that by reaching out to both new potential clients, and always keep close contact with those I've already connected with. Connecting with people not just on the surface, but at a deeper level creates energy and momentum in my business and causes me to want to do more to support and serve those that I come into contact with.
Finally, my last highest value task is Coaching. I love to coach people. Whether it's a large conference I'm invited to speak, a small facilitation or workshop I'm asked to conduct and also with my One-on-One coaching clients. Coaching is my true passion in life, and I always leave coaching events and discussions more energize than when I started.
These are my highest value tasks. When I engage in these three activities during the day, I know I've had a great one. Clearly there are days when my actions don't support these high value behaviors, but the good news is when I fall off track, I know exactly what to do get myself back on track. Create, Connect and Coach.
What are you top three highest value tasks? Are you engaging in them on a daily basis?
How are you building time into your days and weeks to create time for them? Start today by identifying what they are, then make sure you build in the time they deserve in your calendar to work on them.
Cheers to you and your Top Three
One Quarter Turn at a Time
Thoughts for the week:
You don't get paid for the hour. You get paid for the value you bring to the hour. -Jim Rohn
The secret to success is… it's no secret. It's called work your ass off and find a way to add more value to people's lives than anyone else does! – Tony Robbins
Either write something worth reading or do something worth writing about. – Ben Franklin
It's not enough to be busy… The question is what are we busy about? – Henry David Thoreau