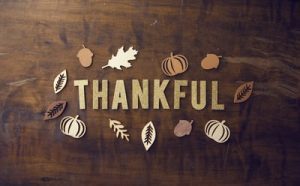 In case you haven't already noticed 2020 has been a memorable year, and mostly for all the wrong reasons. With Covid running wild though out the country, lingering effects of a divisive election that's turned families and friends against one another- and still hasn't ended, countless events and celebrations postponed or cancelled, and it seems like just overall feeling of nastiness out there these days. Many are wondering what the point is of taking a few days here at the end of November to celebrate anything, let along give Thanks.
Well, that's exactly the reason- Now more than ever before in a world that has seemingly turned upside down, we all get to dig down deep inside ourselves and decide what is really important, and what we are truly Thankful for.
It's easy to be Thankful when you haven't experienced any adversity or obstacles. This year I think it's safe to say that everyone has been through the ringer and yet here we all are, somehow still here, forging ahead.
Being Thankful isn't about watching football or drinking and eating way too much. It's about having faith in yourself and those you care for, celebrating our imperfect families, those crazy friends and all we have that is so precious in our lives. The rituals we've created during the Thanksgiving holiday are the true fabric that binds our society and create a richness that tells those cherished stories by remembering those that are no longer with us and sharing new memories with those we choose to call our family.
Maybe this year we can't all be around the same table or in the same house, but that doesn't mean we aren't connected to those we love and those that mean so much to us.
It's easy to take a holiday like Thanksgiving for granted, but this week when you celebrate in your smaller gathering remember that even in these times, there is still so much to be Thankful for.
At the very least we can all be thankful that 2020 only has a few more weeks left to go.
Cheers to staying home, staying safe, and for everything you are Thankful for!
One Quarter Turn at a Time
Thoughts for the week:
Gratitude makes sense of you past, brings peace for today, and creates a vision for the tomorrow. –Melody Beattie
We often take for granted the very things that most deserve our gratitude. -Cynthia Ozick
Be thankful for all the bad things in life, for they open your eyes to all the good things you weren't paying attention to before. -Unknown