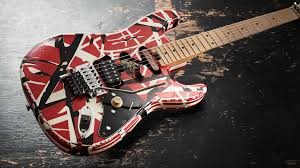 I remember when I was younger and my mom was about the age I am today. Every so often I would hear her shout from somewhere in the house "OH NO!" It was usually when one of her childhood heroes had passed away. This past week the same thing happened to me.
Eddie Van Halen wasn't just a Rock God, Guitar Virtuoso, and Childhood hero to me, he's also a big reason I'm doing what I do today. That may sound strange considering I never actually met him, and that I'm a Speaker and Executive Coach. But like so many of my mentors, he did as much as anyone to start me on the path that's led me to where I am.
Like so many kids at the age of 12, I was really starting to get into music. I'd already been listening to classic rock groups like Led Zeppelin, Aerosmith, REO Speedwagon, and a few others. For my 13th birthday, my brother gifted me the first 5 Van Halen albums- used of course. Since I couldn't sit still long enough to listen to anything on our old turntable, I recorded them all onto a cassette so I could listen to them on my Sony Walkman- Yes I realize I have completely dated myself but what are you gonna do?
On a long drive up to Northern Michigan to do some skiing with a friend I decided to play my newly recorded albums. A few songs into the first Van Halen record I heard the song Eruption, and I will tell you my life wouldn't ever be the same after. I had never heard anything like that in my entire life, my mind was completely blown that someone could play a guitar like that. I listened to it over and over again and like many kids of the day, imagined myself being able to play like that in front of a large audience.
While I never learned to play guitar like Eddie Van Halen, I could sound a lot like the singers of my favorites bands, so I was nominated to be the lead vocalist. It's no coincidence that within two years I was up performing my first gig for a group of 300 high school kids in my parent's backyard.
The thing is, I know that our band was terrible. We knew 3 songs and couldn't play any of them very well- Our set consisted of Smokin in the Boys Room, Train Kept a Rollin, and You Really Got Me. We played those songs over and over again all night and despite our obvious lack of musical talent the crowd seemed to like it. I never would have had the courage to get up in front of an audience if it weren't for Eddie Van Halen lighting the fire within me to want to be just like him.
Lucky for me there were several real bands with decent musicians in the audience that first night and all of them needed a lead singer. I met with all of them the following week, and my only criteria for the guitar player was they had to be able to play Eruption just like Eddie Van Halen. Only one guitar player could even come close and that's the band I joined.
That band was good enough to play clubs in Detroit, and since I wasn't 18 yet, I had to agree to leave the bar immediately after the set ended. Those early gigs got me noticed by a much more established band and led me on a wild Rock -n- Roll Ride for to the next 10 years of my life playing shows all over the country, sometimes for audiences as large a 15,000 people, and even a trip to Russia. While we never got signed and sold millions of records like Eddie Van Halen, the lessons I learned during that time would prove an invaluable stepping-stone to what I now do today.
After my band broke up, I went back to college and eventually got a job in sales. My Band experience was a great training ground for sales, because for 10 years I'd been learning how to build relationships- both on-stage and off-stage. Building relationships is at the heart of any successful salesperson and I just took my ability to connect with a large audience on a concert stage, to 1 or 2 people across an office desk or a kitchen table.
Within a few years I had become one of the top sales agents in a Real Estate firm which led the owners of the company to ask if I'd be interested conducting sales training and coaching for the organization. Next thing you know, I'm back up in front of an audience training, speaking, and what I like to call "Edutaining"
Everything I had learned up to that point my life has prepared me for the career I now have. I get to travel and speak to groups large and small all over the world- hopefully I'll get to do so live again very soon. I still get a microphone, a stage and an audience and the best part is unlike my career as a musician, I usually get paid these days!
So you see, all of this can be traced back to that long drive up to northern Michigan so many decades ago, and that day I first heard Eddie Van Halen play his most famous guitar solo Eruption. To this day when anyone asks me who my favorite band was, or who was my biggest musical influence I will instantly say – Eddie Van Halen. Of course there were others, but Eddie is the one that started me down the path.
So while the music world mourns a guitar legend, I'm going to celebrate the life of someone that had a huge influence on my life and helped me achieve so many of my teenage dreams. I realize that he was a flawed individual in many ways, but who among us isn't? When he picked up his guitar and played, he made so many things that seemed impossible a possibility.
Thank you, Eddie Van Halen, for everything you meant to so many people and for what you have meant to me. You will be missed.
Today I would ask you:
Who has had an impact on your life?
How have they come to do so?
Where would you be without this person?
Have you had the chance to thank them?
Reach out to a coach or mentor in your life and share with them how they have helped shaped the person you've become today!
Thoughts for the week all from Van Halen:
Right now, is your tomorrow- Right now is everything.
You've got to roll with the punches to get to what's real.
And in the end, on dreams we will depend, cause that's what love is made of.
Summer nights and my radio, that's all we need, don't ya know.
Hot shoe, burning down the avenue- model citizen, zero discipline!
Have you seen Junior's Grades?
Cheers to you, your success and above all your health
One Quarter Turns at a Time