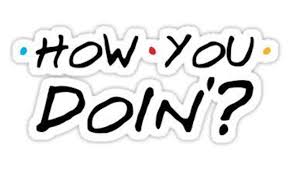 Ok friends, we are at the 6-week mark for the year. How has the year started off for you?
The President's Day weekend is a great opportunity to do a quick re-cap for the beginning of the year. For this quick assessment, I've created a checklist of 6 questions to evaluate where you are and where you are going. Take a few minutes to answer the following:
What are the biggest goals I've accomplished so far this year?
What were the action steps I've taken that cause them to happen?
Where do I need to focus my energy and attention for the next 30-60-90 days?
What new actions will I take in order to accomplish these goals?
Where do I need to make some adjustments or course corrections to my plan?
Who is holding me accountable and capable of my commitments?
There are 7 days in a week my friends and Someday isn't one of them. Start taking action today on those goals and tasks that will generate the momentum you need to cross you own personal goals line, spike the ball and do your funky touchdown dance.
Cheers to your continued success
One Quarter Turn at a Time
Thoughts for the week:
The dream is free, the hustle is sold separately. -Steve Harvey
You don't have to be great to start, but you have to start to be great. -Joe Sebah
If you don't pay appropriate attention to what has your attention, it will take more of your attention than it deserves. -David Allen
All mankind is divided into three classes: Those that are immovable, those that are movable, and those that move. -Ben Franklin
Discipline is choosing between what you want now and what you want most. -Abe Lincoln
Looking forward to our next connection
Coach Tim